Today's Miracle Monday from Sister Sandy Brown-Deramus (Columbus Branch, Ohio) may sound familiar. That's because it was one of the Gospel News Blessing Bits in the April 2021 issue. Here's the extended version of the story, as promised.
One day in January 2021, I decided I would go ahead and run the sweeper in the living room. I plugged the sweeper into the extension cord, turned on the switch, and all the electricity went off in the living room.
I thought that perhaps it was just a tripped fuse, so I went downstairs, opened the fuse box, and looked at all the circuits. I switched all of them off and on in order to reset them. I went back upstairs and there was still no electricity in the living room.
I went back downstairs and repeated the process but to no avail. Feeling frustrated at this point, I called my Sister Cheryl and asked her for the name and number of her electrician.
I called the electrician, who was on his way home for the day. He kindly offered to stop by, and within a half-hour, he rang the doorbell. He asked me to explain what I did and what happened. I told him.
He started to check the outlets in the living room. There was one behind the TV, one under the window, and a third behind the loveseat.
The one behind the loveseat was charred and burned all the way through from one side of the plug to the other! I told him I hadn't smelled anything burning at all in that room.
He changed the outlet in the wall and told me to plug in the sweeper before he left to be sure everything was working again.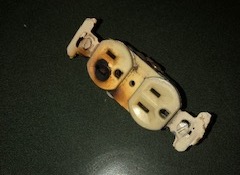 I looked at the burned outlet and began to think of all the things that could have happened…
The outlet was behind the loveseat, between the living room and the kitchen. There could've been a fire behind the loveseat, burning through into the kitchen, There could've been a fire during the night and because of the placement of the outlet, the entire house could have been engulfed in flames before I even knew what was going on.
I could've been overcome with smoke from the loveseat burning and died from smoke inhalation before I even knew there was a fire.
All honor and glory to God for his continual protection of my life and my home.
All the things that could've happened were controlled and taken care of by God, and for that I'm eternally grateful for His wonderful blessing for me.
Help Shape the Future of the Gospel Blog
We're considering some major changes around here, and we want to make sure that we do the right thing for you, our readers. Take our survey to ensure your feedback is counted!
This article has undergone ministry review and approval.