Happy Thanksgiving! We hope you're enjoying a wonderful holiday with your loved ones. Today's article is another installment in our series of childhood church memories, and Sister Erin Light shines the spotlight on something that we can be very thankful for in our church — the fact that we benefit from having a wide span of ages interacting with and supporting one another.
One of the first questions out of my mouth as a child after Sunday service was not, surprisingly, "What's for lunch?" It was, "Where are we going today?" That's because, more frequently than not, Sunday afternoon was the time when Mom and Dad would decide to go visit someone from the branch who was elderly or sick.
In the San Diego Branch, when I was little, we had a large group of seasoned saints who all lived within a half-hour of the church building. I remember sitting on their couches, always being offered a cookie or some juice, but the best memories were the stories. Soft-spoken sisters and brothers, with years of serving God and a huge pile of blessings, were just waiting to share. I remember trying to hold in my excitement at hearing their stories of prayers answered and miracles that got them through poverty, family trials, sickness, or layoffs. At the end of our visits, Mom and I would sit together and hold hands as Dad said a prayer for them.
I had such a love for the older brothers and sisters from my youth, I think, perhaps because they always seemed so happy and proud of what their God had done for them. I never heard a complaint when we visited, as if the aches of this life weren't a big deal, and they really just wanted to share their testimony. Wow! Can you imagine going through life and only having praises to share? It was incredibly inspiring to me in my youth.
Better yet, every year my grandparents, Brother Russ and Sister Lena Martorana, would fly out to California to spend a few winter months with us. This meant every Sunday after church we would go visit one of their friends who they had grown up with in the gospel. And I always tagged along. I remember the joy of my grandparents greeting their friends in Italian, "Hey, Fratello! Hey, Sorella!" After a warm embrace, they would catch up with multiple cups of coffee and biscottis like no time had been lost.
These brothers and sisters were from the Greatest Generation, the late 1900s to 1920s. They lived through the Great Depression and fought in WWII. And yet, in my eyes, they remained the happiest group of older adults I've ever met. I never heard a complaint out of them, no stories of their ailments, no grumbling about doctor visits, no worrying about financials. They had a love for a God that had provided for them year after year, through some of the most difficult American decades, and they only had the blessings of God on their lips.
This memory is one of my favorites. Somehow I got invited to tag along to a birthday party with these wonderful saints. I was the only attendee under age 60, and I like to think of this as the start of my career. This picture sits on my desk at work to remind me of people I love, stories I've heard, and what a joy it can be to serve the Lord for all your days.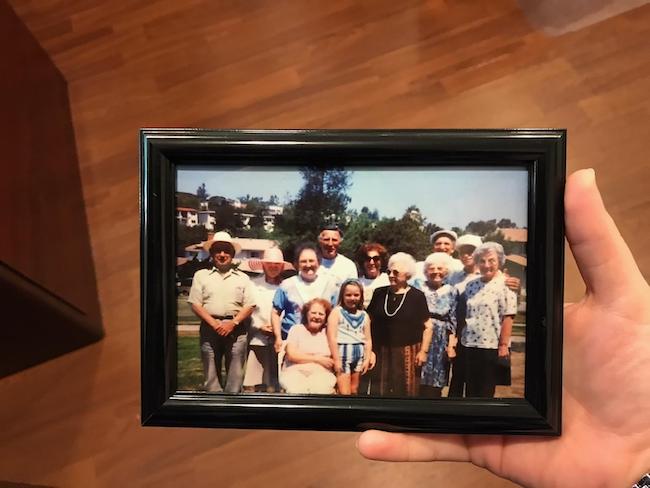 Every job I've worked post-high school has been with the oldest generations. I owe my passion for serving others to my parents' example, who taught me the precious gifts that can be found while sitting under the sound of our older brothers' and sisters' voices. All but three of the loved ones pictured have gone on to their reward, but I can imagine they're still praising and sharing stories of God's grace in their lives even up in heaven — and greeting each new loved one who joins them with a big, "Hey, Fratello!"
Challenge: Over Thanksgiving weekend, make it a point to strike up a meaningful conversation with someone older than you.
This article has undergone ministry review and approval.