Today, we're bringing you the next installment in our Israel 2020 series, written by Church President Brother Joel Gehly.
When viewing Jerusalem for the first time and identifying the perimeter of Old Jerusalem, one specific building caught our eye: the Dome of the Rock. It is, in fact, very hard to miss because of its large golden dome. The Dome of the Rock is the third-most sacred area for the Islamic faithful. It was first dedicated in 691 A.D. and then refurbished around 1541. The Dome is built on a hill, specifically over a rock (a crop of limestone) and is more commonly known by the Jewish people and Christians as Mount Moriah.
"The air over Jerusalem is saturated with prayers and dreams," wrote Israeli poet Yehuda Amichai. I saw firsthand that this is true. Currently, these prayers and dreams seem to circle around today like a storm. To the Jews and Christians, this is the place — the rock — where Abraham proved his faith by preparing to offer his son, Isaac. Later, we read that King David built an altar on or near this rock and subsequently his son, King Solomon, erected a Temple to the Lord on this same spot of ground.
We are aware, through the Bible and Book of Mormon, that Nebuchadnezzar destroyed Solomon's temple. The Jewish people returned to the land and the city of Jerusalem, and they rebuilt the temple (approximately 520 B.C.). Once again, the temple was erected on old Mount Moriah. The temple area was later expanded and the Temple Mount complex nearly doubled in size under the reign of Herod the Great (approximately 10 B.C.). In 70 A.D., Rome crushed the city of Jerusalem, and the temple was completely destroyed.
From approximately 638 A.D. until Israel declared its independence in 1948, the Muslims predominantly controlled the area of Mount Moriah. To keep peace with Arab neighbors and in order to maintain some semblance of peace with all religions, the Old City of Jerusalem is today divided into four quarters. The Muslims continue to hold Mount Moriah — Haram al-Sharif, Dome of the Rock — in their section of the city.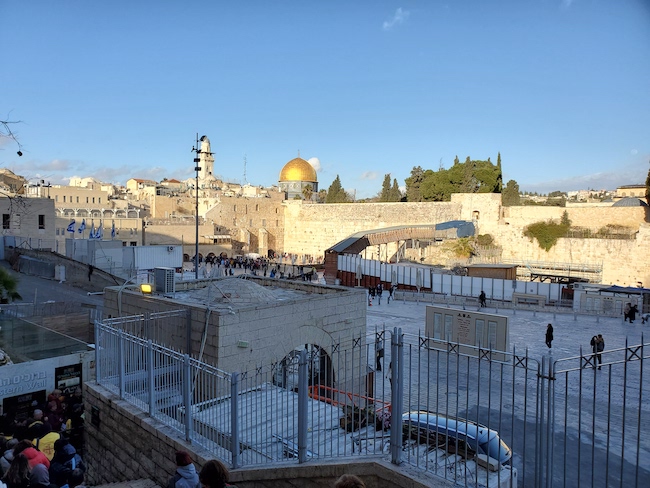 So why do I share this review of a piece of rock? While walking the streets of the old city, I was reminded over and over again of the intensity and fervor of so many people over one simple piece of ground. This intensity — over a rock — brought to mind many of the words and teachings of the scriptures: true worship is not based upon a place or an object.
Mankind, it seems, has always tried to represent God with special places, idols, and buildings. Remember the story in Matthew concerning the transfiguration of Christ. Peter was so awestruck with the experience that he exclaimed, "…Lord, it is good for us to be here: if thou wilt, let us make here three tabernacles…" (Matt 17:4). But God the Father spoke these words, "This is my beloved Son, in whom I am well pleased; hear ye him." (Matt 17:5). After the intense experience had concluded, Jesus came over and touched them. The scripture says, "And when they had lifted up their eyes, they saw no man, save Jesus only." (Matt 17:8).
Jesus only — that is what is important! Not a tabernacle, not a rock, not a hill, not a cross — Jesus only! Unfortunately, the outcrop of limestone rock on Mount Moriah will continue to remain a contentious piece of real estate for the near future. Various religions claim it as holy ground. We understand, however, that contention will only cease when the entire House of Israel lifts their eyes, not seeking a tabernacle, not seeking a rock, not seeking a hill, but rather seeking and finding "Jesus only."
This article has undergone ministry review and approval.