Today, we're bringing you the next installment in our Israel 2020 series, written by Sister Vanessa Watson.
I am so grateful to God for our recent trip to Israel; it was so inspiring. Israel is truly the Holy Land and Jerusalem the Holy City, set apart by God to be the staging ground for the birth, ministry, death, and resurrection of Jesus Christ! What a blessing to go on this trip with Native friends and other believers around the U.S. who share our desire for the "Peace of Israel."
One particularly moving event occurred at the Jewish Agency. All of us (28, plus our tour guide) were in the very room where Israeli officials voted in May 1948 to become the Nation of Israel. I don't think it was a coincidence that Native American leaders were there as well as the President of our Church, Brother Joel Gehly. So, when Navajo Nation President Jonathan Nez stated that he felt like he was coming home when he entered Jerusalem and that he felt a connection somehow with the nation of Israel and wanted to partner with them, I whispered to my husband, Brother Larry, that I felt history was again being made in that place, that I was seeing a glimpse of prophecy being fulfilled.
When Brother Joel Gehly spoke Sunday night before we left for our flight home, he was inspired to talk of how we were all united by our love for Israel. He explained that because of sin, Jacob's eldest sons (Reuben, Simeon and Levi) were all bypassed, and the blessing and birthright normally reserved for the firstborn were instead conferred upon Judah and Joseph. He said that we, as a Church, believe that the Native Peoples of America (First Nations) are descendants of that same Joseph. It was thrilling for me to hear those words in Israel in front of all those who were present. He spoke of Ezekiel's vision of the valley of dry bones, and how one day Joseph (First Nations) will help bring about the restoration of the House of Israel. Then when we sang "Won't It Be Something To See Israel Smile" there in Israel, I felt the Spirit of God wash over me.
I was touched while out on the Sea of Galilee. I thought about Jesus walking on the water and beckoning Peter to come to Him. When Peter stepped out of the boat, he did fine when he was focused on Him, but when he diverted his attention to the waves, he began to sink. Just like Peter, I need to be more focused on Him. I need to remove the distractions in my life to have a clearer picture of what I am to do for Him.
Sisters Vanessa Watson and Ruth Gehly at the Sea of Galilee
My time at the Western Wall (the Wailing Wall) was a private moment and a blessing. To write my requests to God and pray there was such a quiet time between me and God. I thank Him repeatedly for His love, His blessings, and His mercies in my life. I can never thank Him enough.
The Western Wall in Jerusalem
I have been discouraged recently with my health issues and the losses and cares of life, but since returning home to Tse Bonito, New Mexico, I feel a renewed hope — looking forward to what the Lord has for this place. I'm beginning to see a little more clearly what the Lord is doing in my life. I'm feeling some of the excitement I had when I first came out West in 1977. The joy, hope, and excitement of being part of serving the Native Peoples, working to bring them to Christ, is slowly returning. Like Martha of the New Testament, I've been "cumbered about," distracted with many things. I need to focus on Jesus Christ. Like Peter on the Sea of Galilee, I have sometimes taken my eyes off Jesus, and when I do, I find myself beginning to sink. I pray that I prove faithful to Him through all the ups and downs, the joys and disappointments of life. I'm grateful for the vision and Hope of things to come.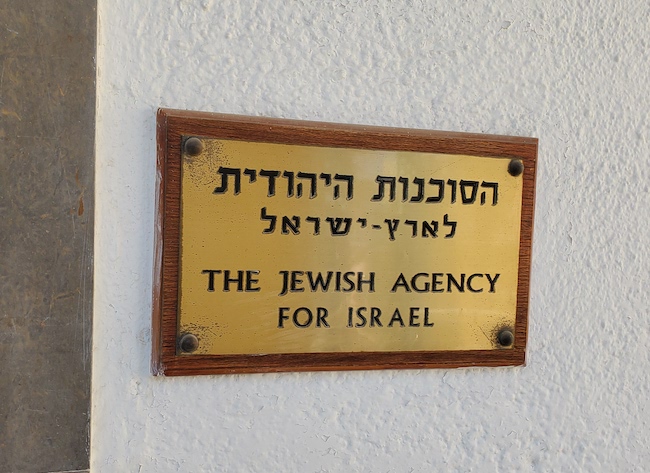 Feature Photo: Brother Larry and Sister Vanessa Watson with the director of the Jewish Agency for Israel.
This article has undergone ministry review and approval.