What if Jesus gave us a tapback? What would that look like?
First of all, let me tell you what a tapback is. If you are younger than me, which many people I meet lately are, then you may know that tapbacks are the symbols that individuals send back when receiving your text message.
They look like this: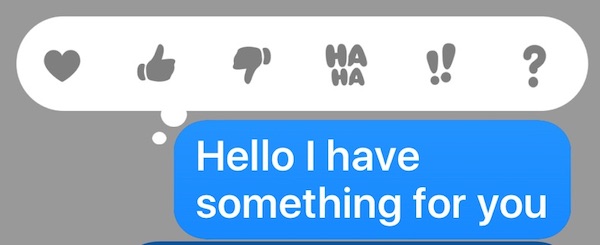 Apparently, there is no real social etiquette around when to use these symbols. Their intent is to make messaging easier. Personally, I use them very infrequently. I always feel like the sender wants to just end my conversation because how do I respond back when they send a "____ liked your comment."
One time I was informing a group that I was ill in trying to find a replacement for a task that I needed to complete. I got back a _____ loved your comment. I was really confused. Why did this person love the fact that I was ill? Then I thought maybe they interpret the heart as sending love?
I can imagine that when Jesus hears a small child praying, His tapback would be the heart. Jesus tells us to have childlike faith. In Matthew 18:4, Jesus says: "Whosoever therefore shall humble himself as this little child, the same is greatest in the kingdom of heaven."
When we ask Him for something in faith believing, I imagine He would tapback a like or happiness that we are seeking Him with our whole heart. 1 Chronicles 28:9 says, "And thou, Solomon my son, know thou the God of thy father, and serve him with a perfect heart and with a willing mind: for the LORD searcheth all hearts…"
If we cheat, lie, or cause strife, I can imagine the tapback would be a thumbs down. James 3:16 says: "For where envying and strife is, there is confusion and every evil work."
I really do believe that Jesus has a sense of humor. The parable of the woman at the well illustrates the dialogue between him and the woman of Samaria. His response to her when she says "I have no husband," in verse 17 of John 4 is, "Thou hast well said, I have no husband, for thou has had five husbands." This response to me is equivalent to the HA HA.
Recently, I received the !! tapback from one of my daughters. It notified me with a sound. She was emphasizing something that I said was important. Whenever I read something in the scriptures that is repeated a few times, I feel like it is something that our Lord wants us to remember. The repetition means it is important. He is emphasizing it through repetition. One of those examples is the phrase, Verily, Verily. This is a command or attention getter and emphasizes the importance of the scripture that follows. It appears many times.
The question mark might be a time of waiting that is necessary for us to trust Him, wait on Him and see His power. The verse that is my "go to" verse when I am waiting and trusting is Psalm 46: "Be still and know that I am God."
Fortunately, when I have a conversation with my Lord, I don't feel like He is trying to end my conversation. His tapbacks come to me through the Holy Spirit that sends me love, reassurance, correction, instruction, joy and reflection.
This article has undergone ministry review and approval.